Shri Mahavir Jain Aradhana Kendra
Acharya Shri Kailassagarsuri Gyanmandir
Ahemdabad
Shri Mahavir Jain Aradhana Kendra, situated at village Koba (Dist. Gandhinagar, Gujarat State), 15Kms. fromAhmedabad, near River Sabarmati, amidst natural surroundings and established in 1980, has been now recognized as one of the biggest International Research Centre in Indology and Jainism. In this centre, Acharya Shri Kailassagarsuri Gyanmandir is conceived and established by the inspiration and guidance of Rashtrasant Acharya Shri Padmasagarsuriji as visualized and dreamt by his Dadaguru Acharya Shri Kailassagarsuriji. Shri Mahavir Jain Aradhana Kendra is the mother of several institutions/organizations as described below: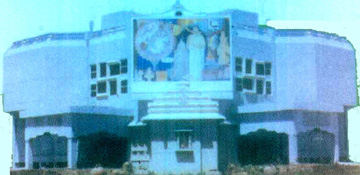 Mahaviralaya : This is an edifice of Jain Temples. Its Pratistha was performed in 1987 and is decorated with 3 high Shikhars & beautifully carved wooden doors in South-Indian art. A unique Scientific-cum- Adhyatmic arrangement is made so that on 22nd May at 2.07 p.m. every year, a ray of Sun will penetrate from shikhar and illuminate the tilak on forehead of Mulnayak Shri Mahavir Swami. This is the sacred time when funeral-right of Acharya Shri Kailassagarsuri was performed. Thousands of devotees throng the temple on this occasion every year.
Gurumandir : This is created at the funeral place .of Acharya Shri Kailassagarsuri. This sacred mandir is designed in pure white marble and adored in Agra-Pachhiwork, which decorates the great Tajmahal.
Acharya Shri Kailassagarsuri Gyanmandir : Gyanmandir is the jewel in the crown of this institution. This is the soul of all activities. Considered as one of the biggest Library and Museum of Ancient Indian Heritage, this Gyanmandir has following treasure, which go on increasing every single day.
Collection of over 2,50,000 Handwritten Manuscripts including 3000 Tadpatras, which are 200 to 1 000 years old, covering subjects like Jain Darshan, Art, Literature, Grammer, Yoga, Sculpture, Astrology, Ayurved, Environ- ment, History, Philosophy, Indian Culture etc.

Collection of 85,000 printed books on similar subjects.

Collection of details of all Ancient Books & Tadpatras from other Jain Libraries in India, for use of scholars.

Samrat Samprati Museum ! having a good collection of I Idols/Statues in Stone,
Marble, Sfatic, Bronze, Wood, Ivory etc, which are 200 to 1200 years old.

The museum has also collection of magnificent Miniature Paintings, Ancient Gattaji, Vigyapti Patra (Scrolls), Tamrapatra, Bhojpatra, Tadpatra, Coins and innumerable Ancient Artifacts, displayed in a well designed Art Gallery.
The Gyanmandir is fully computerized and programmed so that details of ever book, every author/publisf'rer can be located in seconds & can be read in 12 different Indian & Foreign scripts. It is planned to place this work on
This treasure of Indian Art, Literature & Sculpture is collected by Acharya Shri Padmasagarsuriji during his Vihar of 85,000 kms. in India, from hundreds of villages & cities and from individuals and institutions, encompassing 14 states. Such treasure would have otherwise vanished or destroyed over a time.
Heritage : Gyanmandir is an ambitious project to collect & preserve Indian Heritage and pass on this "Oharohar" (hereditary heritage) to future generations for next 1000 years. It is developing as an Eminent International Research Centre not only for Indology and Jainism, but also for Ancient Indian Heritage. The ultimate goal is to fulfill this dream of Acharya Shri Kailassagarsuri & Acharya Shri Padmasagarsuri.
Visitors : Eminent persons like President & Prime Ministers of India, Chief Ministers & Ministers of various states, journalists, industrialists, academicians, Saints of various religions and many international scholars from USA, Japan & other countries have visited Gyanmandir.
Aradhana Bhavan : For Muni-Bhagawants, this bhavan is established with an octagonal hall with a mezzanine floor, which could accommodate about 400 persons. It has 18 other rooms including6 in basement for study and meditation.
Mumukshu Kutirs : Ten Mumukshu Kutirs (Guest House), like independent apartments, are constructed for national and international research scholars and students undertaking research study at
Gyanmandir.
Bhojanshala -Canteen : Bhojanshala and Canteen are functioning separately for providing meals and snacks as
per jain traditions to visitors and pilgrims.
-----------------------------------------------------
Address : Acharya Shri Kailassagarsuri Gyanmandir
Koba, Gandhinagar, Gujarat-382009, India, Tele : 02712-76204, 76205, 76252, Fax : 76249
-----------------------------------------------------
Mail to : Ahimsa Foundation
www.jainsamaj.org
R190304