Parshwanath Vidyapeeth
I. T. I. Road, Karaundi, P. O. : B. H. U. Varanasi-221005
Tele : 318046, 316521
Parshwanath Vidyapeeth is an institution deserving serious consideration for allocation of funds for its engagement and involvement in higher education, research and publication work based on Jain Canonical works, ancient Indian languages -Apbhransh, Prakrit and Sanskrit, and translations of the ancient texts in modern languages.
Historical milestones of this institution are briefly presented below:
Established in November 1937, at Varanasi adjoining Banaras Hindu University

A society under the name "Pujya Sohanlal Jain Dharam Pracharak Samiti" was registered in 1951 to manage the affairs of the institution. In due course under the advise of Department of Scientific & Industrial Research, (who have registered this institute as a Research Institute.), Income Tax Authorities and by the University Grants Commission the name of the Society and the institute were changed to one and only "Parshwanath Vidyapeeth", in 1997. (Annexure # 1A)

BHU also recognised the Institute as a research Institute (as per enclosed annexure # 1 )

Finance Ministry was pleased to grant 100% exemption since 1983 in Income Tax to Donors u/s 35 (i) (iii) of the Income Tax Act 1961. (Annexure # 2)

It has so far produced 60 Ph.D. and D. Lit. scholars.

The institute has been registered with the Ministry of Home Affairs; Government of India for receiving foreign contributions vide their letter dated 13th Dec. 2000 (enclosed as annexure # 3).

About 30-40 students study at the institute for their Ph.D. degrees and research theses. The institute at present employs 7 permanent faculty members besides other visiting faculty, supervised by an empowered Academic Council that monitors the quality of work and sets the standards and direction of future research.

A list of the members of the managing committee is enclosed as annexure # 5. Prof. Sagarmal Jain, an eminent scholar of Jainism, is the current Honorary Secretary ably assisted by an equally dedicated Prof. Maheshvari Prasad of ancient history stream as the institutes full time Director.

The institute publishes a quarterly research journal named - "Shraman", besides this the institute has published nearly 160 books and a number of theses.

Facilities at the Campus: Located on a 4 acre, self owned land, in the vicinity of BHU Varanasi, the Institute has a campus offering facilities of a highly specialized library with 32,000 books; over 1000 original manuscripts and reference books of Jain and comparative studies, a conference hall, offices, computers, an art gallery, lecture rooms. The campus also has a guesthouse, separate hostels for male and female students, monks and nuns, residences for the Director and faculty, also a cafe-cum-canteen, besides a museum that is under development. There is also a Meditation Hall.

The Vidyapeeth has its own facility for power generation when power outages happen by a dedicated DG set sufficient for the needs of the entire campus.

The institute has been visited by many prominent scholars both from within India and abroad and all have praised the work being done by the Institute.
Facilities on The Campus
Located on 4 acres land in the vicinity of Banaras Hindu University, Varanasi. Parshwanath Vidyapeeth has a campus with a number of buildings. The Institute has three-storied guesthouse. Residence for the Director
4 Two-room flats for the faculty.
4 Studio flats for scholars
2 one-room units for menial workmen
Girls hostel with accommodation for up to 20 persons
Boys hostel with accommodation for up to 10 persons
Sadhu Nivas with two rooms
Sadhvi Nivas with 3 rooms
Married scholar hostel with 8 rooms
Library - housing more than 35,000 rare books on Jainism and other oriental Shramnik religions besides over 1000 original manuscripts.
Permanent Art Exhibitions.
A Museum with some of the rare original artifacts and plaster casts-close to 350 articles in all.
Meditation Hall
Bhojanalaya-serving satvik Jain food.
Two generators for emergency electric supply (7.5KVA and 15 KVA)
Computers and Photocopy machines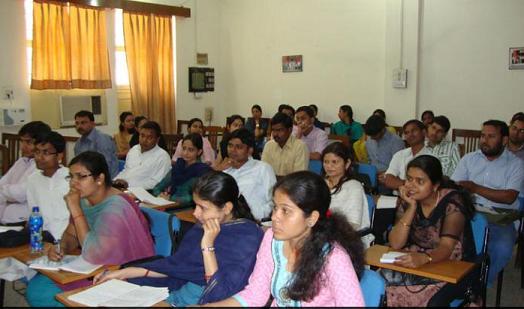 Significant Accomplishments
Parshwanath Vidyapeeth is duly recognized by Banaras Hindu University, Varanasi as a centre for higher learning and research in the field of Jainology and its Ph. D. programme since 1971. So far , under the faculty of the Vidyapeeth 65 students have received successfully their Ph.D. degrees from Banaras Hindu University, Varanasi.
Parashwanth Vidyapeeth is also recognized by Department of Scientific & Industrial Research, Ministry of Science & Industrial Technology, Government of India.
The Institute is also recognized by the Advance Study Centre, Simla for conducting seminars and workshops in Jainology. We have been regularly conducting seminars, symposia and lecture series.
The Vidyapeeth has an active publication programme and its has so far published 143 titles on different aspects of Jainology. Additionally, fewtitles have been brought out in conjunction with other reputed institutions and thus the total tally along with such publications stands at 155 titles published.
The Vidyapeeth also publishes a tri-lingual research journal every quarter-Shraman.
Directors of The Institute Over The Years
| | |
| --- | --- |
| Late Shantilal Vanmali Seth | - 1944 to 1949 |
| Late Krishnachandracharya | - 1947 to 1963 |
| Prof. Mohan Lal Mehta | - 1964 to 1977 |
| Prof. Sagarmal Jain | - 1979 to 1997 |
| Prof. Bhag Chandra Jain | - 1999 to 2001 |
| Prof. Maheshvari Prasad | - 2002 onwards. |
Sadhu & Sadhvi's Who Have Studied At Parashwanth Vidyapeeth & Those Who Have Visited :

So far only 4 sadhu and sadhvi's have completed their Ph.D. from Parashwanth Vidyapeeth whose names are under :
| | |
| --- | --- |
| Sadhvi Sudershan Shree Ji | - 1985 |
| Sadhvi Priya Darshana Shree Ji | - 1985 |
| Muni Chandra Prabha Sagar Ji | - 1986 |
| Sadhvi Pramod Kumari Ji | - 1991 |
Sadhu Sadhvi's who visited Parshwanath.Vidyapeeth regarding their study, Chaturmas and Tirthayatra. For brevity sake only group leader names are given:
Muni Krishanachandracharya
Muni Yogesh Ji
Muni Praveen Vijaya Ji
Muni Jambu Vijaya Ji
Muni Virag Sagar Ji
Muni Vishrut Yasha Vijaya Ji
Muni Veetaraj Yasha Vijaya Ji
Muni Ratena Yash Vijaya Ji
Pujya Acharya Raj Yasha Surishwar Ji Ma.Sa And his entire group(6 Muni's & 30 Sadhvi's)
Dadhvi Vidut Prabha Ji & her group (4 Sadhvi's)
Sadhvi Pramod Kumarji Ji & her group (5 Sadhvi's)
Sadhvi Onkar Shree Ji & her group (9 Sadhvi's)
Dr. Chandra Prbha Sagar Ji Ma.Sa.
Dr. Chetan Prabha Ji
Muni Shri Manish Sagar Ji Ma.Sa.
Muni Shri Manish Sagar Ji Ma.Sa.
Muni Mani Bhadraji
Muni Padam Ji Aman
Pujya Acharya Padam Sagar Ji
Sdhvi Kushal Kunvarji and her group (2 Sadhvi's)
Sadhvi Namrasheelaji
Pujya Muni Prabha Ji
Aryika Gyanmati Mata Ji (10 Aryika's and 1 Ksullakazi)
Awards & Recognition
Parshwanath.Vidyapeeth has been conferred four awards on its publications as under:
Jain Sahitya Ka Brihad Itihasa ( 7 Volumes)
Pancaseka-Prakarana
Nalavilasa - Natakam
Muni Punya Vijaya Smriti Puraskara to Dr. Ms. Madhulika Singh for her paper read at all India Oriental Conference, Bhubaneshwar, Orisa
Sambodhi Life time award of Rs. 11,000/- to Dr. Shiv Prasad on his monumental work "Gacchon Ka Itihaasa" by Sambodhi Sansthan, Ahmedabad.
Recognisable Scholars Of Parshwanath Vidyapeeth :
| | |
| --- | --- |
| (a.) | Old batch to 1953 : |
| | Dr. Nathmal Tatia, Ex Director-Jaina Vishva Bharati Sansthan, Ladnun, |
| | Dr. Gulab Chand Chaudhari, |
| | Dr. Indrachandra Shastri : and |
| | Dr. Mohanla Mehta, Former Director- Parshwanath.Vidyapeeth. |
| (b.) | After 1953 : |
| | Dr. Gokul Chand Jain , Former Professor of Jainism : Samprnanand Sankrit University, Varansi : |
| | Dr. Komal Chand Jain , Former Professor & Head Dept of Pali, BHU : |
| | Dr. Bashistha Naryan Sinha, Former Reader : Mahatma Gandhi Kashi Vidyapeeth' Varanasi; |
| | Dr. Ajita Shukdeo Sharma, Former Professor & Head Vishva Bharati Shanti Niketan; |
| | Dr. Madhu Sen, Former Professor of History, Gujarat Vidyapeeth, Ahmedabad Arhaddas Vandiva Dighe. |
| | Dr. Prem Chand Jaina : |
| | Dr. Lalchand Jain, Director : Vaishali Institure, Bihar. |
| | Dr. Sudarchan Lal Jain, Professor & Head, Dept. of Sanskrit, Banaras Hindu University, |
| | Dr. Phoolchand Jain " Premi" Reader : Sampurnanand Sanskrit University, Varanasi : |
| | Dr. Kamalesh Jain, Reader : Prachya Vidhya Dharma Vijnan Sansthan, BHU. |
| | Dr. M. N. P. T. Tiwari, Prof. & Head Dept of History of Arts, BHU; |
| | Dr. Harihar Singh, Redaer : Dept. of AIHC & Archaeology, BHU. |
| | Dr. Jitendra B. Shah, Director : L. D. Institute of Indology, Ahemdabad; |
| | Dr. A. P.Singh, Senior Leturer : Bajarang Degree College, Ballia : |
| | Dr. B. R. Yadav, Reader : Gaya College, Gaya; |
| | Dr. Shiv Prasad, Lecturer at Parshwanath Vidyapeeth. |
List of the original research work done By Parshwanath Vidyapeeth
Ph.D. Research work published from Parshwanath Vidyapeeth
Jaina Psychology By Dr. Mohanlal Mehta
Yashastilaka ka Sanskritik Adhyayan - Dr. Gokulchand Jain
Jaina Dharma Men Ahimsa - Dr. Bashisth Narayan Sinha
Apabhramsa Kathakvya Evam hindi Premakhyanaka - Dr. Premchand Jain
Jaina Yoga Ka alochanatmaka Adhyayana - Arhaddas Vandova Dighe
Jaina Pratima Vigyan - Dr. M. N. P. Tiwari
Jaina Darshan Men Atma Vichar - Dr. Lalchand Jain
Jainacharyo Ka Alamkar Shastra Men Ygadana - Dr. Kamalesh Kumar Jain
Jaina Aura Bauddha Bhikshuni Sangh - Dr. A. P. Singh
Mulachar Ka Samikshatmaka Adhyayana - Dr. Phool Chand Jain'Premi'
Tithankara, Buddha Aura Awatara - Dr. R. C. Gupta
Syadvad Aura Saptabhangi Naya - Dr. B. R. Yadava
Jaina Tirtho ka Aitihasika Adhyayana - Dr. Shiv Prasad
Jaina Meghadutam - Dr. Ravishankara Mishra
Jaina aura Bauddha Agmon men Nari Jeevan - Dr. Komal Chand Jain
Uttaradhyayan Sutra : Eka Parisheelan - Dr. Sudarshan Lal Jain
Jaina Karma Siddhanta Ka Udbhava Evam Vikas - Dr. Ravindra Nath Mishra
Haribhadra Sahitya Men Samaj Evam Sanskriti - Dr. Kmala Prabha Jain
Political History of northem India - Dr. Gulab Chandra Chaudhari
The Cultural Study of Nishitha Churni - Dr. Madhu Sen
Jaina Temples of Western India - Dr. Harihar singh
Studies in Jaina Philosophy - Dr. Nathmal Tatia
Research work done by the Parshwanath Vidyapeeth staff, published elsewhere
Outlines of Jaina Philosophy - Dr. Mohanlal Mehta, Jaina Mission Society, Banglore
Rishibhasita Eka Adhyayana - Dr. Sagarmal Jain, Prakrit Bharti Academy, Jaipur
Jaina, Dauddha aura Gita Ke Achar Darshano ka Tulanatmaka Adhyayana - Dr. Sagarmal Jain, Prakrit Bharti Academy, Jainpur
Jaina Bhasa Darashan - Dr. Sagarmal Jain, Prakrit Bharti Academy, Jaipur
Research work done by the Staff memners, published from Parshwanath Vidyapeeth :
Jaina Sahitya Ka Brihad Itihas Vol 1 to 7
Hindi Jaina Shaitya Ka Brihad Itihas Vol I to IV
Jaina Dharam Darshan - Dr. Mohanlal Mehta
Jaina Achara - Dr. Mohanlal Mehta
Jaina Dharma Ka Yapaniya ampradaya - Dr. Sagarmal Jain
Gunasthan Siddhant : Eka Vishlesana - Dr. Sagarmal Jain
Jaina Dharma Aura Tantrika Sadhana - Dr. Sagarmal Jain
An Introduction to Jaina Dadhana - Dr. Sagarmal Jain
Tattvarth Sutra Aura Usaki Parampara - Dr. Sagarmal Jain
Sagar Jaina Vidya Bharati Vol I to V - Dr. Sagarmal Jain
Jaina Dharma Men Nari Ki Bhoomika - Dr. Sagaraml Jain
Anekantavad, Syadvad Aura Saptabhangi - Dr. Sagarmal Jain
Jaina Literature & Philosophy - Dr. Sagaramal Jain
Bharatiya Jeevan Mulya - Dr. Surendra Verma
Achal Gachcha ka Itihas - Dr. Shiv Prasad
Tapa Gachch ka Itihas - Dr.Shiv Prasad
Siddhasena Divakara : Vyaktitva Evam Kritiva - Dr. S. P. Pandey
Navatattvaprakarana - Dr. S. P. Pandey
Dashshritskanadh Niryukti - Dr. A. K. Singh
Ashtakaprakarana - Dr. A. K. Singh
Vasudeva Hindi : Eka Adhyayaa - Dr. Kamal Prabha Jain
Samadhimarana : Eka Adhyayana - Dr. Rajjan Kumar
-----------------------------------------------------
Address : Adm. Office, 20/6, Mathura Road, Faridabad-121005
-----------------------------------------------------
Mail to : Ahimsa Foundation
www.jainsamaj.org
R1200304