Jain Society of Central
Florida, USA
Location- 6100 Old Winter Garden Road Orlando, FL 32835
Jain Society of Central Florida - History
In 1963, Jain individuals and families began to immigrate to the United States. Most were engineers or doctors who came to further their education and to gain employment. As they prospered, the state-side residents sent for their family and friends in India.
The Jain Society of Central Florida was started in 1981 by a Daytona, Florida resident, Dr. Lal Jain. Several Central Florida cities, namely Ocala, Daytona, and Orlando, had Jain families who held prayer meetings and ceremonies in their homes. Poojas and other activities were held continuously in people's homes since 1981. The Jain Society of Central Florida became registered with the IRS as a non-profit, tax exempt corporation in 1993.
In 1991, Bhavok Singh, a Sikh man living in the southwest of Orlando, agreed to let the Jains of Central Florida use his large spiritual center for their various activities. He did so at no charge to the Jains. Now all Poojas and other activities are held at the spiritual center in Orlando.
In November of 1995, Bhavek Singh made a request to the Samanijis from India to start a Preksha Center in Florida. The Jain community of Central Florida supported this proposition and agreed to help the Samanijis in any way. The center is now called Jain Vishwa Bharati USA. Each year two samanis are sent to the center to act as religious leaders, teachers, lecturers, and advisors. They reside in Orlando, but they travel all over the USA delivering lectures to universities and colleges, acting as spiritual advisors for Jain communities, and teaching Preksha Meditation and Yoga.
The "Saman" order was started by Gurudev Shri Tulsi in 1980, which began as a progressive movement to help spread the teachings of Jainism, Preksha Meditation and Yoga, and the Science of Living. The Samanis and Saman that make up this order are allowed to travel on planes, trains, cars, and busses, and they are also allowed to eat food that is especially prepared for them by Jain families. Other exceptions are made for them so that they can study and teach all over the world.
Center Activities :- In addition to the monthly poojas, pathsalas, swadhyaya, and weekly classes on Jainism, the Jains hold a special once-a-year celebration for the birthday of Lord Mahavira.
There are two main publications produced by the Jain community and Jain Vishwa Bharati USA. A quarterly newsletter (The Inner Light) of approximately 8 pages is sent to families all over the state of Florida. Each issue focuses on special topics, such as ecology, mantras, or Lord Mahavira's birthday.
The second publication is the yearly "souvenir" booklet that is produced in conjunction with the annual 3 day camp. It is filled with best wishes from the community, articles relevant to the camp, ads for various community businesses, comments about the activities held at the center, and recognition of those who help out at the center.
There are various other small publications produced by the Jain Vishwa Bharati in Ladnun, India that are shared with the Jains of Florida and the United States.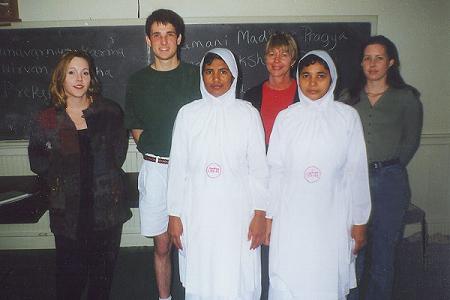 Activities and Schedule :- The Jain Society of Central Florida, in association with Jain Vishwa Bharati USA, holds spiritual and other special activities at the spiritual center in southwest Orlando, Florida. On the second weekend of every month a pooja, a special prayer session and idol worship ceremony, is held from 3pm - 6pm. Here they use eight different types of materials for the ceremony. 1) Water. Water symbolizes the ocean of birth, life, death, and misery. It symbolizes an honest, truthful, and compassionate life. 2) Sandlewood. Sandlewood symbolizes right knowledge. 3) Flower. Flowers symbolize conduct that is full of love and compassion. 4) Incense. Incense symbolizes asetic life. 5) Candle. This represents a Pure Consciousness or Soul without any bondage, or a Liberated soul. 6) Rice. Rice symbolizes the last birth. 7) Sweet. One should attempt to not be tempted by rich, delicious food because the ultimate aim is to live without food, which is the life of a liberated Soul. 8) Fruit. It symbolizes Moksha or Liberation. It is the ultimate achievement of life.
Secondly, every other Saturday and Sunday there is a school, or pathsala, that is especially for children, teaching them Jain principles, mantra, and Jain values. Third, for the adults, there is the swadhyaya, an ongoing monthly meeting where Jain principles are discussed.
And finally, every Wednesday a class on Jainism is held. These activities are conducted under the guidance of the Samanijis (Jain nuns) in residence at the spiritual center in Orlando.
The Jain Vishwa Bharati USA is an educational and spiritual institution sponsored by the Jain community of Central Florida. It is a satellite institution of Jain Vishwa Bharati in Ladnun, India, which was started by Gurudev Shri Tulsi and is now led by Acharya Mahapragya. Yoga and meditation classes are held every Tuesday, Wednesday, and Thursdays from 6:30 to 8:00 pm. Special programs of various topics are regularly scheduled, the most popular of which are the bi-monthly camps and the annual 3 day camp.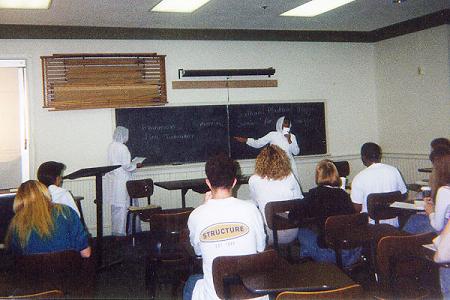 Other items of Interest :- There are many interesting qualities that make the Jains of Central Florida engaging the least of which is how they face the challenge of recreating their religious life in America. Everything from interfaith and intercultural marriages to the challenges facing Jain parents to keep the rites and rituals of Jainism alive in their families present formidable obstacles to be faced everyday. As with any immigrant community, the Jains have had to find ways to keep their traditions and culture alive and operative in the lives of succeeding generations, have had to teach their children to be strong in the face of ridicule (for example, for being vegetarians) and oppression, and have had to organize for themselves the institutions and organizations that uphold their religious and cultural lives. They have had to have strong faith to continue to sustain their belief in non-violence, vegetarianism, and a strong moral commitment to truth.
Of course, one of the main ways to ensure that the future of Jainism in Central Florida is kept alive is the education of the children both in the home and at the spiritual center. In the home, mantras are said, and the parents who are religious continue to set good examples by performing religious activities in the home. Also, the Samanis from India bring with them the cultural and religious traditions which help reinforce both Jain and Indian values and principles.
In addition to the reinforcement of Jain principles in the home and at the center, there is a group called the National Young Jain Association for Jains ages 14 - 24 where young Jains can get together to discuss the Jain way of life and how they cope with the challenges they face. Approximately 10 youths from the Central Florida area participate in the activities of this organization and attend various conferences around the country.
Another interesting group is the 20 or so ladies who support what is called gochari, that is, bringing food to the Samanijis. The Samanijis do not cook for themselves, so the ladies take turns bringing lunch and dinner to them.
Contact : Phone Number : (407) 295-8694, Fax Number : (407) 295-8694, E-Mail : jainvishwa@hotmail.com
-----------------------------------------------------
Information Courtesy : Shri Ram Gopal Jain, E-Mail : ramgopaljain@hotmail.com
-----------------------------------------------------
Mail to : Ahimsa Foundation
www.jainsamaj.org
R0220411