'A Home For Blind, Crippled Old Aged Person'
Run by Andh, Apang Manav Kalyan Trust, Rajkot
Unit-1 (Office)
Ahead Rangoli Park Hotel
Near Cosmoplex Cinema
Kalawad Main Road
Rajkot - 360005, Phone : 440135

Unit-2
Near Vitrag Society
Gandhigram Society
Raiya Road
Rajkot - 360005, Phone: 440135
Preface: Shri Jayantibhai Patel, founder of the institute is blind, so he can understand affliction of blind, handicapped, old aged person.
Shri Jayantibhai Patel, himself run and managing the whole institute, so he is well affiliate with all inmates personally. He is progeny, parent & friend of all inmates.

Foundation: A trust for the well-being of the blind and disabled old aged was started with very noble objection in 1979. The Ashram (Home) housed in a rented building with 3 inmates. At present there are 58 old aged, blind and disabled inmates are living in the home. They are admitted without filling any form or formalities or charges.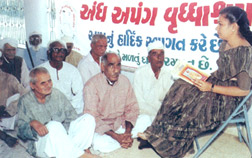 Objects :
1. To admit more & more poor, helpless, homeless, old aged blind and crippled persons.
2. To meet primary requirements of all admitted inmates.
3. To start Physio-therapist Training Center and Hostel, so the admitted inmates live self-dependence.
4. To provide necessary equipments to inmates like wheel chair, calipers, belt etc.
5. To provide medical treatment, operation etc.
6. To start a dispensary in the ashram, so the inmates can be given treatment during emergency.
7. To provide entertainment equipments like T.V., sports equipments Etc.
8. To start a library.
9. To establish blind, crippled Matru Ashram (Mother Ashram).
10. To start a hostel training center and work-shop.
11. To start "All religious Temple" for prayer.
12. To give a scholarship & awards to the inmate, who will successfully pass the study of Blind & disabled people.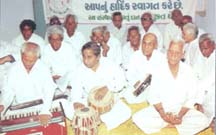 Government Aid: Government of Gujarat has allotted 8888 sq. mt. Land at Mota Mava Survey No. 180, Kalawad Road. We plan to construct total 8 units, which cost Rs. 47.25 Lacs.
Working Committee: Meeting of the working committee is held three times in a year to managing the Ashram activities & to take decision on some important questions. Valuable (instructions) from members are accepted.
For Donation and help to the Ashram, please contact at the following address :
Andh-Apang Vrudhshram (Unit01)
Jayantibhai PatelAhead Rangoli Park Hotel
Near Cosmoplex Cenema
Kalawad Main Road
Rajkot 360005, Phone : 581819 / 440135

Infosoft
Devangbhai Varia708
Stat Cbambers, Harihar Chowk
Rajkot 360001
Phone : 571286, E-Mail : abcinfy@hotmail.com
Donation Made To This Institute Is Exempted From Income-Tax
Tax exemption No. CIT.R.63-46-80G.
How you can help?
Please donate for construction of a new building (expansion) for needy helpless, poor blind & crippled old age persons. (A plan of new building is given on next page.)
Sr.

One Unit

No.

Amount of Donation

Total Amount

1.

Room

12

12 1,00,000

12,00,000/-

2.

Main Gates

3

1,00,000

3,00,000/-

3.

Kitchen/Store

1

3,00,000

3,00,000/-

4.

Dining Hall

1

10,00,000

10,00,000/-

5.

Unit No1

1

1 7,50,000

7,50,000/-

6.

Unit No.2

1

7,50,000

7,50,000/-

7.

All Religions Prayer Room

1

Approx

4,25,000/-

Total Amount

47,25,000/-
Please send your contribution by Cheque or Draft in favour of "Andh-Apang Manav Kalyan Trust-Rajkot."

Name of the Donor of Rs. 51,000/- will be painted on main wall.

Name of the Donor of Rs. 25,000/- will be painted on wall near office

Name of the Donor of Rs. 11,000/- will be painted on wall of office lobby
You can help through Membership:
Rs. 10,000/- Patron Member of the institute

Rs. 5,000/- Vice Patron Member

Rs. 2,000/- Well-wisher Member
You can help by donating for permanent Dinner days (one day during the year for the life time):
Rs. 10,000/- Dinner with sweet (one day during the year for the life time)

Rs. 5000/- Regular Dinner - do -

Rs. 2,000/- Breakfast - do -

Rs. 700/- One time Dinner with sweet.

Rs. 500/- One time regular Dinner.

Rs. 250/- One time Breakfast.
Also, you can donate furniture, music instruments, clothes, materials for kitchen, religious books etc.
-----------------------------------------------------
Information Courtesy : Mr. Mahesh Mehta, President Jain Jagruti Centre, Rajkot, Near Harish Chander Talkies
Sir Lakhaji Raj Road, Rajkot-360001, India
Tele : 0281-226202, E-Mail : abcinfy@hotmail.com
-----------------------------------------------------
Mail to : Ahimsa Foundation
www.jainsamaj.org
R301002