"The Endangered Half"
An appeal for
Reversing The Present Frightening Trend of Female Foeticide
In
Jain Community
Dr. Sharda Jain
Paper presented at 2nd All India Jain Doctors Conference - 2003 at Sri Mahavirji
This folk song from Uttar Pradesh is the indicator of utmost neglect of the girl child in our country, and our psyche towards them.
"Oh, God, I beg to you
I touch your feet time and again
Next birth, don't give me a daughter
Give me Hell instead"
Indian society is a patriarchal one and a preference for the male offspring has already become an obsession with people. Our culture has traditionally devalued females, and in recent years this psyche is responsible for selectively killing millions of female foetuses and infants each year. This is single most cause of the steady decline in the female sex ratio in India.
The falling child sex ratio, and crimes against women are scaling to dizzy heights now and it is a fact that, this naked outrage on half of humanity is causing shame and heart burn of concerned citizens. Sex determination and female foeticide has spread like cancer, in every nook and comer of our country in last two decades. An utter disregard and illtreatment are peculiar in our Hindu community. It is very surprising that Jain community is no exception to this malady. The heinous practice of female foeticide is prevalent in them also and has a much deeper religious fall out in Jain community.
Do not compel us to say" Shame to you". If Muslim community (which is largely beaf eaters) can be kind to its daughters, why not Jain community, which propagates' Ahimsa parmodharma '?.
Failed by legal system and convinced that family would never be punished, society has adopted a callous apprach to the PNDT law. No fear of social stigma or any guilt bothers them. Gender bias / discrimination against girl child and preference for a male child is deep routed in our psyche which has led to large scale female foeticide in the Jain Community, ignoring all regards and dictat of Jain religion.
No single person can remove all this injustice against girl child from Jain community. We have to adapt to the 'Collective Approach'. If we all wish to remove this load off our community, every one will have to lift only a little. Removing this filthy practice of killing girl child will bring eternal peace in Jain community and that will be beginning of new era.
Dear Jain Samaj, "If you do not wake up to today's reality, you will never do that". Your future generations will never forgive you for your inaction and sinful deeds. You have two options only: do something concrete to undo this outrage on girl child or let us give up 'Jain surname' from our name. The first option will make you hold your head high, and in the second case you will put your head down with shame. Choice is yours! !.
It does not matter whether you can be proud of your religion, your ancestors, your religious leader', what matters is your future generations can be proud of you or not. So, better create a heaven for your next generations to come. 'Girl child' of future India will make Jain community their role model for safe guarding their human right to live.
It is up to you, whether you gift your girl child a hell or a heaven. Anyway, whatever your gift is, it will be for your own kith and kin. Either they will be cursing you for not finding a bride for themselves in their own community, as is happening in Punjab and Haryana where they are literally buying brides for their boys, or they will enjoy the sweet fruits of happy and healthy life and pay homage to you with respect. It is all up to you.
And, if you decide to present girl child a heaven, see that not only you and your family stays away for sex determination and female foeticide, rather ensure as a 'Good Jain' that other people around you do the same, because without their cooperation, you can not make' Jain community free from female foeticide' and heaven for your future generations.
We all have faith in our Jain religion (Ahimsa parmodharma), hope in our hearts and faith in you that you will not let us down.
Remember, every string that you pull or strike, keeps vibrating in the eternity. This vibration never dies.
We have great expectations from you.
Long live Jain Dharma
Profile Dr. Sharda Jain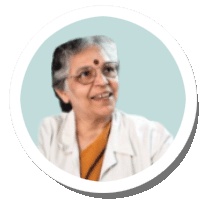 Dr. (Mrs. ) Sharda Jain, MBBS, M.D (OBS/GYN), DNB (OBS / GYN), FICOG (OBS / GYN), Member Health Advisory Board (National Commission for Women). Currently in practice (special interests -infertility, menopause and high risk pregnancy), contributed chapters to various postgraduate books and has over 150 papers both in National / International journals., Written Book on " All you wanted to know about pregnancy, Birth and Child Care" Recipient of several awards-the subject. "DMA -Excellence award " in 1995 IMA National Award for contributing significantly towards Medical Education in 1991, "Excellence Award" from National Health Education society of India 1999, Women of year award" from American Biographical Institute 2000, Facilitated by Delhi Government for organizing cancer detection camps at 60 sites for women -2002, "Scroll of honour" for work on adolescent health by Lady Hardinge Alumini Association -2003, Special award for organsing 1 st women conference in Delhi (DMA) -2003, DMA's "scroll of honour "for community work -2003, Member of Professional Women's Advisory Board of American Biographical Institute.
-----------------------------------------------------
Article Received Through : Dr. S.C. Jain, Jain Clinic, 32 HIG Duplex, Brij Vihar, Gaziabad, Uttar Pradesh-201011
E-Mail : jainscin@yahoo.co.in Organiser, 2nd All India Jain Doctors Conference - 2003
-----------------------------------------------------
Mail to : Ahimsa Foundation
www.jainsamaj.org
R07024