Veerayatan

Rajgir, Bihar
Mission Statement : Veerayatan is devoted to uplifting and empowering humanity through seva (humanitarianism), shiksha (education) and sadhana (inner development).
Visions
To inspire active awareness of individual responsibilities to humanity
To motivate individuals to act for environmental protection and conservation
To encourage individual and social harmony through education
To reinvigorate humanity through inner develo
Founders : Upadhyaya Shri Amar Muniji Maharaj (1900-1992) : Veerayatan began as a dream in the mind of the great Indian scholar, Upadhyaya Shri Amar Muniji Maharaj. Recognizing the beginnings of social and economic crisis in India's poorest state of Bihar, Uphadhaya Shri Amar Muniji Maharaj strove to inspire a movement to better the conditions of what was once India's richest province. This movement came to be known as Veerayatan. Upadhyaya Shri Amar Muniji Maharaj was nationally recognized as one of India's foremost thinkers of Indian philosophies and religions. He has written extensively on Jainism, Buddhism and Hinduism. Among his students and admirers was former Indian Prime Minister Indira Gandhi.
Acharya Shri Chandanaji (1937), Chief Director : Determined to transform Upadhyaya Shri Amar Muniji Maharaj's vision into reality, Acharya Shri Chandanaji ventured into extremely hostile conditions in Bihar, India to establish the first Veerayatan site in 1973. Since then, Acharya Shri Chandanaji's limitless energy and driven dedication has been the inspiration for a worldwide movement dedicated to uplifting humanity. Acharya Shri Chandanaji renounced the worldly life in 1949, at the age of twelve, dedicating herself to the cause uplifting humanity. She has been nationally recognized for her lifelong dedication to the cause of humanitarianism. In recognition of her tremendous achievements, she has won many national and international awards, including the coveted Ahilya Bai National Service Award, presented by the government of India in 2002.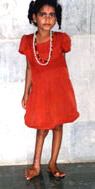 Veeraytan Campus, Rajgir : Established as the first Veerayatan campus in 1973, Veerayatan Rajgir is home of the world-renowned eye hospital and orthopedic center Netra Jyoti Seva Mandiram (N.J.S.M.). This site also hosts the Shri Brahmi Kala Mandiram, an art gallery featuring several hand-designed murals honoring the themes of non-violence, love and the oneness of humanity. In the twenty years since its opening, this art gallery has enjoyed more than half a million visitors. Veerayatan's eye hospital and orthopedic center N.J.S.M. in Rajgir has become one of the most modern and best-equipped centers of its kind in the entire state of Bihar. The 52,000 square feet hospital has 150 beds for eye patients and 50 beds for polio patients.
Since 1973, the highly dedicated and talented team of staff and doctors at N.J.S.M. has performed 115,525 eye operations, with 8,572 of those operations performed in the year 2002 alone. All of these operations have been performed either entirely free of charge, or at a highly subsidized cost to the patient. All patients receive nutritious meals three times a day and are kept on the premises for a few days following the surgery for proper post-operative care and supervision.
In addition to in-patients, N.J.S.M. has also seen more than 720,000 eye outpatients since 1973; nearly 63,000 of these patients visited N.J.S.M. in 2002. The vast majority of these patients come from extremely economically disadvantaged backgrounds; thus their treatment, medicine and other necessary medical attention are provided free of charge or highly subsidized.
In the early 1990s, N.J.S.M. began exploring the field of orthopedics, most specifically the treatment of polio patients. Since 1991, N.J.S.M.'s team has performed 1750 polio operations, with 435 of these operations performed in 2002 alone. Also, since 1991, N.J.S.M.'s team has successfully rehabilitated 858 polio patients-both children and adults-allowing them to regain mobility and the use of their limbs. In addition to surgery and rehabilitation, N.J.S.M. also sponsors polio camps to spread awareness about polio and its prevention. A total of 48 camps have been held to date (end of 2002), with an average attendance of 864 participants.
Another unique feature of N.J.S.M. is its Diploma in Ophthalmic Training (DOT) Program. DOT students are interviewed and selected to receive hand-on ophthalmic training. While they learn, they provide invaluable service to the hospital's team of doctors and surgeons. Following graduation, these students then go on to serve other underprivileged communities. To date, 42 students have been trained under the DOT Program.
With the resolute dedication of its director, volunteers and doctors, Veerayatan is now working to make the N.J.S.M. Hospital one of the best eye and polio research and treatment centers in eastern India.
Polio Related Statistics
Total number of polio operations performed since 1991: 1750
Total number of polio operations performed this year (Jan-Dec 2002): 435
Total number of polio patients rehabilitated since 1991: 858
Total number of calipers distributed from 1996 to 2002: 2139
Total number of polio camps held: 48
Average number of people who attend polio camps: 864
Total number of tricycles distributed: 83
"NJSM's Director, Dr. Sadhvi Chetnaji working with doctors and DOT students to care for a young eye patient" Eye Related Statistics
Total number of eye operations performed since 1973: 115,525
Total number of eye operations performed this year (Jan-Dec 2002): 8572
Total number of eye operations performed free of charge since 1973: 80,745
Total number of subsidized operations since 1973: 12,570
Total number of interocular lens (IOL) surgeries since 1973: 34,780
Total number of non-IOL surgeries since 1973: 78,228
Total number of eye outpatients since 1973: 727,575
Total number of eye outpatients this year (Jan-Dec 1973): 62,848
Veerayatan, Rajgir also supports a mobile van that distributes school supplies, fruits, milk powder, blankets and other necessities to local villages and underprivileged schools. To date, Veerayatan's mobile van has serviced over 1350 villages in Bihar and has distributed supplies to several hundreds of school children.
With the generous contribution of supporters in the United States, Veerayatan has established a school for underprivileged children in a rural community in Bihar called Laachwaad. For the past many generations, no formal educational system has existed in this community, and people have never before climbed the steps of any educational institution. Now, however, more than 200 students actively participate in the school. Encouraged by the success of its current projects, Veerayatan, Rajgir is now looking to construct a dental building which will likewise service local impoverished communities.
Directors
Sadhvi Shri Shilapiji, Director Kutch : Sadhvi Shri Shilapiji has been associated with Veerayatan since 1986. Through her extensive travels within India and abroad, she has worked tirelessly to spread Veerayatan's mission of uplifting humanity through humanitarianism, education and inner development. She is heavily involved in coordinating Veerayatan's newest permanent educational institution in Jakhania, Kutch.
Sadhvi Shri Shilapiji is currently pursuing her PhD in Comparative Religions from King's College in London. Her mastery of Sanskrit, Prakrit, Hindi, Gujarati, Marathi and English has enabled her to touch people of all faiths and backgrounds across the world. She frequently lectures at Oxford and Harvard and been a representative at the Parliament of World Religions in Chicago in 1993 and again in 1999 in Cape Town, South Africa.
Sadhvi Shri Sampragyaji, Director Rajgir : Sadhvi Shri Sampragyaji has been associated with Veerayatan since 1980. She completed her PhD in History of Jainism from Magadh University in Bihar. At present, she is successfully administering the humanitarian activities at Veerayatan's Rajgir campus.
Sadhvi Shri Sampragyaji is a scholar of Jainism, Buddhism and Hinduism. She speaks many different languages, including Hindi, English, and Gujarati. She is also well versed in Prakrit.
Dr. Sadhvi Shri Chetnaji, Director N.J.S.M. Hospital : Dr. Sadhvi Shri Chetnaji has been associated with Veerayatan since its inception in 1973. She is now the Director of Veerayatan's world reknowned eye and polio hospital Netra Seva Jyoti Mandiram. She has single-handedly worked to make it one of the most modern, clean and efficient centers of its kind in all of eastern India. Dr. Sadhvi Shri Chetnaji is fluent in Hindi and Gujarati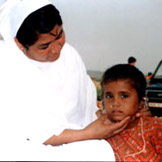 Sadhvi Shri Shubhumji, Director of Public Relations : Sadhvi Shri Shubhumji has been associated with Veerayatan since 1970, before its formal inception. Her extensive travels within India and abroad have been instrumental in helping her spread Veerayatan's message of compassionate humanitarianism, education and the importance of inner development. Sadhvi Shri Shubhumji is a proficient scholar of Sanskrit and Prakrit, and she has extensively studied the scriptures and theories of Jainism, Buddhism and Hinduism. She is fluent in English, Hindi, Gujarati and Marathi. Sadhvi Shri Shubhumji also shares a very unique bond with all creatures-due to her tireless efforts, many injured birds and other animals have been healed and released.
Projects : Food, Clothing, Material Distribution : Veerayatan staff will organize distributions of food, clothing and materials to be carried out in nearby villages and slum areas. Volunteers will help in sorting clothes and materials and in packaging food. Volunteers (accompanied by staff) will get the hands-on opportunity to distribute these items to grateful members of the local community. These distributions are always preceded by inspirational talks delivered by Veerayatan staff. Veerayatan also forges long-term relationships with its distribution communities to create sustainable change.
Mobile Hygiene Unit : In many parts of both rural and urban India, disease is often engendered and spread through poor human hygiene. Open defecation in streets and alleys, uncovered sewers, litter and general filth have led to many community problems, including swarms of mosquitoes and the spread of infectious diseases.
As part of its mission to provide first-class education in Kutch, Veerayatan is committed to spreading awareness about health and hygiene. Two or three volunteers will work on the creation of a mobile hygiene unit, which will travel to various slum areas and rural areas in Kutch to conduct classes and seminars on hygiene. Veerayatan will provide necessary staff and vehicles.
Volunteers can also work on putting together fun, culturally appropriate skits that contain messages of health and hygiene. The volunteers can then perform these skits in slum areas and villages, or they can recruit other actors and actresses.
Furthermore. volunteers can also put together pamphlets in Gujarati, Kutchi and Hindi (with the assistance of translators) to promote hygiene awareness.
Literacy Awareness : This is an ongoing project that aims to support and enhance the existing K.I.D.S. (Knowledge for Illiterate and Disadvantaged Students) and Shrutam (literacy for child laborers) programs. Volunteers can travel to nearby slum areas and makeshift colonies with Veerayatan's social workers to promote Veerayatan's literacy classes.
A particular challenge here is to convince parents to allow their young daughters to attend these classes, while remaining culturally sensitive. These daughters are usually confined to household chores, such as washing clothes and dishes, preparing dinner and raising younger siblings.
Here, creativity is a must, and volunteers must be inspirational and persuasive. Though the project can at times be tiring and challenging, the end result is enough to gratify one's soul. By teaching one child to read, you will have opened up a world of possibilities for them.
Conservation : Ecological conservation and protection is necessary in every part of the world. As part of Veerayatan's vision to encourage people to act for ecological conservation and protection, volunteers can organize and teach classes on watershed management, foresting, efficient agricultural practices and so on.
Brochures can be prepared in various local languages in an effort to educate communities on these ecological issues. Marches and inspirational talks can also be organized, as can visits to villages and towns.
Veerayatan will also help volunteers who wish to start tree-planting programs and reforesting initiatives.
Additionally, volunteers can work through Veerayatan staff to organize programs, workshops and lectures with government officials to ensure long-term, sustainable ecological impacts.
Video Update : The first video documentary that Veerayatan produced immediately following the January 2001 Kutch earthquake was well received both within India and internationally. However, since then, Veerayatan has accomplished much more and our supporters around the world have urged us to update this video.
Thus, two volunteers will be assigned the task of writing a new script and story line for the video. This script should encompass Veerayatan's latest successes on its Bhuj campus, as well as information about the new Rudrani campus, the 16 new vocational training centers as well as the newest site in Jakhania.
Volunteers will work with a camera crew from Life Video in Rajkot, traveling to various Veerayatan sites around Kutch to obtain video footage. They can also narrate the video, interview students and staff, choose an accompanying musical score and design necessary graphics. Finally, volunteers can also work on promoting and distributing this video abroad.
Sponsor a Child Set-up and Maintenance : Currently, more than one hundred students live in Veerayatan's residential dormitory in Bhuj, called Gyan Sankul. The majority of these children has lost one or both parents during the earthquake, or are otherwise economically disadvantaged. Veerayatan has assumed an ad hoc guardianship role, providing food, clothing, shelter, education, stability and love in their otherwise chaotic lives. These children will stay with Veerayatan until they turn eighteen years old, attending Veerayatan's primary school and vocational training courses.
These children stay with Veerayatan completely free of charge. As you can imagine, though, to provide for the education and living expenses of one children for fifteen plus years can be rather expensive! Though Veerayatan presently cares for a little more than 100 children, this number will grow to 500 in the coming years. All of these children will live on Veerayatan's permanent educational institution in Jakhania.
Veerayatan has started a sponsorship program for these children, whereby supporters worldwide can fund the educational and/or living expenses of a child for one or more years.
Two or three volunteers will work on this project, which includes creating a database of these children with information on their names, ages, personal backgrounds, stories and so on. Volunteers will also research other similar programs that exist (e.g. Christian Children's Fund, Save the Children, and so on) to identify necessary components of such a project. Volunteers can also work on donor schemes, such as "gift donations" (i.e. donating in honor of someone's birthday, anniversary or other life event), or "group donations," whereby groups can sponsor groups of children.
English Teaching : English is one of India's national languages, and indeed, there is tremendous interest, at all levels of society in Kutch, to learn English. Indeed, in this rapidly globalizing world, knowledge of the English language is becoming a must. It is becoming a increasingly necessary skill to conduct business, to use computers and in many other areas of life (television, film, news broadcasts, etc.).
Veerayatan would like interested volunteers to conduct advanced English classes on its campuses. In the weeks preceding the volunteer's arrival, Veerayatan will publicize these classes in local newspapers. Based on interest, Veerayatan will then screen potential students for skill level. The volunteer will be provided with necessary materials (classroom, chalkboard, etc.) to conduct classes in spoken and/or written English.
Each of Veerayatan's 10,000 beneficiaries in Kutch has a story to tell, and we want to hear it! Among the most touching of these stories are the personal accounts of the boys and girls who live in Veerayatan's residential dormitory. Many of these 100+ children have lost both or one parent during the earthquake, or are otherwise economically disadvantaged. Veerayatan has assumed a sort of guardian role, providing food, clothing, shelter, education, stability and love in their otherwise chaotic lives.
Handicraft Marketing : There are many handicrafts and other products made by local women in various villages in Kutch and in Veerayatan's vocational classes. In an effort to provide economic stability and self-sufficiency to these women and families, volunteers can develop a program which will allow these people to build a market for their goods to be sold. Veerayatan will provide the volunteer with contacts of other local NGOs who have long-standing experience in this area, such as Sewa.
Vocational Placements : If you are interested in practicing your vocational skills in one of our sites, there are many opportunities for volunteers to serve. Veerayatan has potential placements for volunteers in the medical field who are interested in offering service in Veerayatan's N.J.S.M. hospital in Bihar as well as on site in Kutch.
Establishment of Sub-Centers : Veerayatan Vidyapeeth already hosts a network of 16 sub-centers throughout Kutch which specialize in vocational training, and most specifically computer training. We are always looking for communities who are interested in hosting additional sub-centers. Volunteers can survey villages in the region of Kutch as potential sub center sites. This will involve a detailed assessment of the types and numbers of potential students in the area, the success rates for potential classes and research of potential sources for funding.
Executive Committee


Shri L. M.
Singhvi
Honorary
Patron
Sh. Abhay
Firodia
President
Shri A. Surana
Vice President
Shri S. C Jain
Vice President
Shri T. R.
Daga
General
Secretary
Shri N. Sheth
Joint
Secretary
Shri H. L.
Bohra
Joint
Secretary
Shri R. V.
Gada
Treasurer
-----------------------------------------------------
Veerayatan Rajgir
Rajgir, District Nalanda, Bihar-803116, India
Tele : 06112-255013/255240 / 255249, Fax : 06112 255013 / 255172
Website : www.veerayatan.org, E-Mail : sampragyaji@veerayatan.org
-----------------------------------------------------
Mail to : Ahimsa Foundation
www.jainsamaj.org
R110305