Global Conference of Human Fraternity
Abu Dhabi
( 3-4 February, 2019 )
Presentation By : Anil Kumar Jain

I relate to Jaina faith in India and represent the global institution, "Ahimsa Foundation". The name of my foundation explains the core concept of Jaina ideology. Ahimsa refers to, "not to wish or cause harm to any living creature not even to any lifeless object. Ahimsa is about the intent, rather than the action itself. It is an attitude of universal benevolence". It is exhilarating to see the crux of this conclave is to promote "Ahimsa" universally.
Thank you Council of Muslim Elders, for your invitation to attend and address the august gathering in this conference. This is an extraordinary event of great importance to the world, at a critical time for humanity. In a world that struggles to assemble for peace and justice, this is an assembly of those who believe and strive to spread the message of peace, tolerance and love.
Talking about the faith I represent, Jainism formally arose in India twenty six centuries ago due to a sustained bout of introspection and correctives from one of the great figures in world history. Lord Vardhaman Mahavira is one of those luminous beings whose life story touches us in very direct and personal manner thousands of years after he lived and died.
Vardhaman Mahavira experienced "liberation", which is to say that he developed complete and total understanding of the existence. The power of that knowledge elevated him to a superior plane and made him more god than man. The story of his life emphasizes certain very powerful aspects of the Indian cultural and spiritual heritage. Jainism emphasizes on knowledge and learning. The acquisition of knowledge is one of the basic objectives of human life. Jainism does not believe in divine revelation. It is based on logic and experience.
In the Jaina philosophical tradition, the purpose of life is not to ascend heaven. The purpose of life is to understand the truth that underlies all existence. As per Jaina tenets, the path to salvation through knowledge and good deeds is accessible to all human beings. All that it requires is the determination to do good and to lead a good life. While guiding for spiritual enlightenment for liberation of soul, Jaina philosophy does offer noteworthy solutions for challenges faced today by the world fraternity like absence of human conscience, exclusion of religious moral, invoking individualism and materialism, religious and ethnic fanaticism.
One of the most striking characteristics of the Jain faith is its commitment to non-violence. The doctrine of not harming other living things. This is an absolute value that is accorded the utmost importance by all Jains. We are not alone in doing so. The greatest Indian of our time, Mahatma Gandhi converted the principles underlying non-violence into a tool of political mass mobilization. Using Ahimsa, he was able to unseat the mighty British Empire. The path adopted by Martin Luther King and Nelson Mandela, is the path shown By Vardhaman Mahavira.
The Jain practice of austere living with its emphasis on curbing non-essential consumption provides many pointers about how we should conduct ourselves in the face of such challenges. I believe, Jainism has solutions to some of our most pressing worldwide problems. Global warming and carbon emissions have been driven by unchecked materialism. We must not take so much as to harm the earth. Frugality in life and abstemiousness in consumption are not just hymn. They are the way of the Jains. These are the teachings of this timeless, yet eternally modern faith, more relevant today than at any time.
One of Mahatma Gandhi' s most famous quotes – The Earth has enough for everyone's need, but not for everyone's greed is a distillation of Jain philosophy.
The Jaina philosophy of the Non-Absolutism or the philosophy of Relative- Pluralism refers to rejection of fanaticism that leads to terror attacks and mass violence. Some scholars state that, modern revisionism has attempted to reinterpret Non absolutism with religious tolerance and open-mindedness.
Non Absolutism shows, how to realize truth in its varied aspects. Vardhman Mahavira says, that every substance has infinite attributes and different attributes may be seen through different angles. Just as a coin has two sides or a prism has many sides, similarly, every substance or situation has many aspects which could be seen from more than one side. It also teaches us that we should not impose our own thoughts or views on others, but should try to reconcile with the thoughts or view points of others. This principle, therefore, if earnestly put into practice shows us how to remove our short sighted and partial outlook. It shows us how to remove discord and disharmony.
Strength derived from Ahimsa, Austerity living and Non Absolutism guide Jains even now. Jains live by this code and will continue to do so. They do so because it has worked. It will continue to work. It is our and much older version of what Socrates, acknowledged as the father of Western philosophy, when he said, that, "the unexamined life is not worth living". This is more doctrinally described by Jains as their three Jewels - right knowledge, right faith and right action.
It is through accommodation and respect for diversity that, humanity advances, nations progress and the world prospers. Diversity is a basic reality of nature and source of richness of a society. It should not be a cause of discord. We need just not constitutional provisions or legal safeguards, but also social values to build an inclusive and peaceful society, in which everyone can be secured about one's rights and confident of one's future.
Let us reaffirm the enduring message of Ahimsa of Lord Mahavir and Buddha. Let us remember the teaching of Holy Quran that if anyone slew one innocent person, it would be as if he slew a whole people; if anyone saved one life, it would be as if he saved a whole people.
Let us be inspired by the message of Hazrat Moinuddin Chishti, he says, "With your spiritual light, dissolve the clouds of discord and war and spread goodwill, peace, and harmony among the people".
Let us also live the sermon of Bible that calls us to do good, seek peace and pursue it.
Let us, therefore, spread a message in the world:
• A melody of Harmony and Humanity
• The Embrace of Diversity, the Spirit of Oneness
• Service with Compassion and Generosity,
• A Resolve Against Terrorism, A Rejection of Extremism
• And, a Determination to Advance Peace

Let us challenge the forces of violence with the kindness of our love and universal human values, and lastly, let us restore the light of hope and turn this world into a garden of peace. Once again, I present compliments of 1.3 billion Indians to the people of Abu Dhabi & Muslim Council of Elders, Abu Dhabi for organizing this Conference and welcoming the delegates from all over the world. I firmly believe that this conference will strengthen the bonds of love, goodwill and amity that will further unite man with man and god with his creation.
Through His Excellency Dr. Sultan Al Rumaithi, Secretary General of Council of Muslim Elders, I would also like to pay my deep respect to the present rulers of Abu Dhabi, HH President Sheikh Khalifa bin Zayed Al Nahyan, for your compassionate and empathetic blessings and support to the philanthropic institutions engaged in the service to mankind around the world.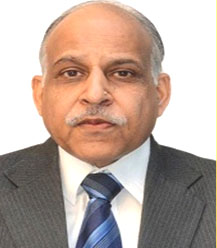 A. K. Jain is President and Founder Trustee of Ahimsa Foundation. Ahimsa Foundation is dedicated in service to humanity and actively promotes non-violence amongst all living creatures. The Foundation under his leadership has taken several initiatives to improve education, support research initiative in the field of social empowerment, while promoting the core philosophy of Jain Religion i.e. peaceful co-existence of all mankind. The Jain philosophy respects nature and natural resources being the gift of almighty to all of us. The Foundation cautiously promotes judicial application of natural resources. Besides, Foundation has also developed a web portal under the domain of www.jainsamaj.org. The web portal is unique source of information about Jain Diaspora spread around the globe and the philosophy of Jaina Culture.
He has also promoted the concept of "Shivapuram" an institution to serve the humanity in various ways. This institution will be landmark in presenting diverse cultural ideologies of India.( www.shivapuram.org).
Besides, he is also associated with several philanthropic, charitable and religious institutions as their Founder Trustee or in advisory capacities - Foundation For Social & Religious Integration, Confederation of Professionals, Shivapuram, Manav Shanti Pratishthan, Ashtapad Teerth Jain Mandir, Navkar Teerth Atishay Kshetra and others.
Born in 1956, he is also a qualified Chartered Accountant. He actively participates in media debates on television channels and has authored several articles. He has also been lecturing on social and economic subjects in and outside India. He has widely travelled around the world.
-----------------------------------------------------
Mail to : Ahimsa Foundation
www.jainsamaj.org
R130419